Anyway….better late than never I say, (I have to say that because I am always late:)).  So I am thinking about having FN (Friday Night, that is) Knit Night with warm drinks….coffee, hot cocoa, or whatever else you can think of that might warm the belly

 and ummmmmm….Candy Canes! haha! oh, come on, you know you're coming now!  And FREE Christmas Patterns!  I have lots of Free printed patterns that you can shuffle through and snag for your Christmas pattern collection.  You DO have a Christmas pattern collection don't you??
The Parade is Friday night also and it's only a hop, skip, and a jump away….but you can just walk down if you want

I am thinking I might "stroll" down

Saturday, the store is open from 9:30-3:30pm and I am thinking of shutting down all the wild and crazy yarnbombers for one Saturday and having a non-knitting activity for a change.
I was given this idea by a customer this morning and I loved it so I'm going with it.  I was thinking about doing this cute little project: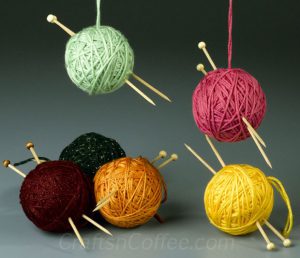 Stop in around or after 1pm if you are interested…totally FREE and only while supplies last, or until 3:30pm.  While you are here, and anytime on Saturday, enjoy 20% off any Luxury Yarns: any yarn that consists mostly of Alpaca, Angora, Mohair, Llama.  I will have labels beside what qualifies, in my mind, as a Luxury Fiber.  I will also have a display of Stocking Stuffer ideas to help if you're not a knitter but would like to give a knitter a gift.
I will be closed on Sunday so that I can do some Holiday Strolling of my own with my family.  Enjoy your weekend Everybody!!